Project management:
You can count on us.
Good planning is expressed by the satisfaction of our customers.
You can count on us. We use modern project planning tools to ensure that the products you receive from us are not only perfect, but also arrive on-schedule. It always starts with a reliable and realistic plan for the production and implementation of your project. And: Your named point of contact is there for you, all the way from development to volume production readiness.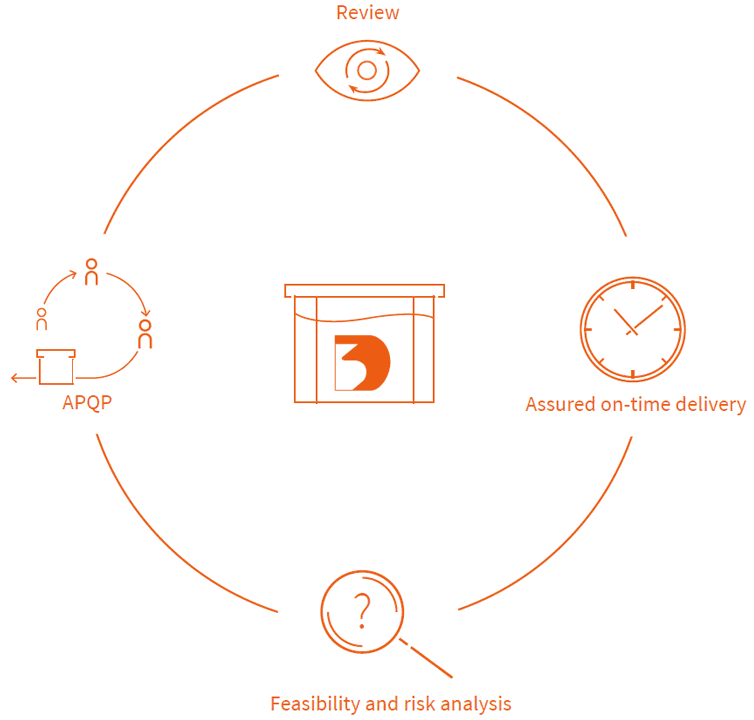 Our methods for professional project planning.
Feasibility analysis
We check queried components immediately: Is the component geometry suitable for plastics and can it be simulated in the tool? Can the volume production process be implemented reliably?
Risk analysis
To achieve the highest standards of reliability, we use filling studies, automotive methods such as FMEA and moldflow simulation throughout the entire process.
APQP
When it comes to product quality, we leave nothing to chance. We assure compliance with your requirements through a series of several Quality Gates.
Honoring deadline commitments
We have tightly-timed schedules and capable partners throughout the supply chain to ensure that you can depend on us for on-time deliveries. We avoid bottlenecks through predictive planning. If needed, we can switch to alternative suppliers.
Review
To obtain the best results, we are committed to continuous consultation, internal sample testing and Lessons Learned.